Anyone who knows any child from age 3, will tell you that in their world of imagination, nothing is impossible, even building a castle in the air. Also, you have to commend these observant lovelies for their willingness to try out the activities they've seen adults do, including sewing. As a well-meaning parent, you shouldn't deny your kid the opportunity to learn a useful skill such as sewing, which will help unlock his/her creativity, equip him/her with patience and problem-solving skill, and prepare him/her for financial independence. For a start, you have to introduce your child to a machine that will build his/her confidence in sewing before using the real deal. It's for that reason that sewing machines specifically designed for kids exist, and there are good ones in the market that will suit your child's sewing needs.
Generally, kids' sewing machines aren't made to serve your child for life since his/her sewing expertise is bound to improve as the months progress. Although they don't last as long as the standard sewing machines which most adults use, yet, many sewing machines built with kids in mind are sturdy, functional and user-friendly. More so, many children identify with the prettiness of these machines.
Fascinatingly, a few of these kids' sewing machines have features like 10-12 basic stitches, 2-speed setting, and presser feet which make them appropriate for an adult's use, too.  So, if your child has been pestering you, or you've been looking for a sewing machine to introduce your kid to the basics of sewing, this review article on the best sewing machines in the market for kids is for you.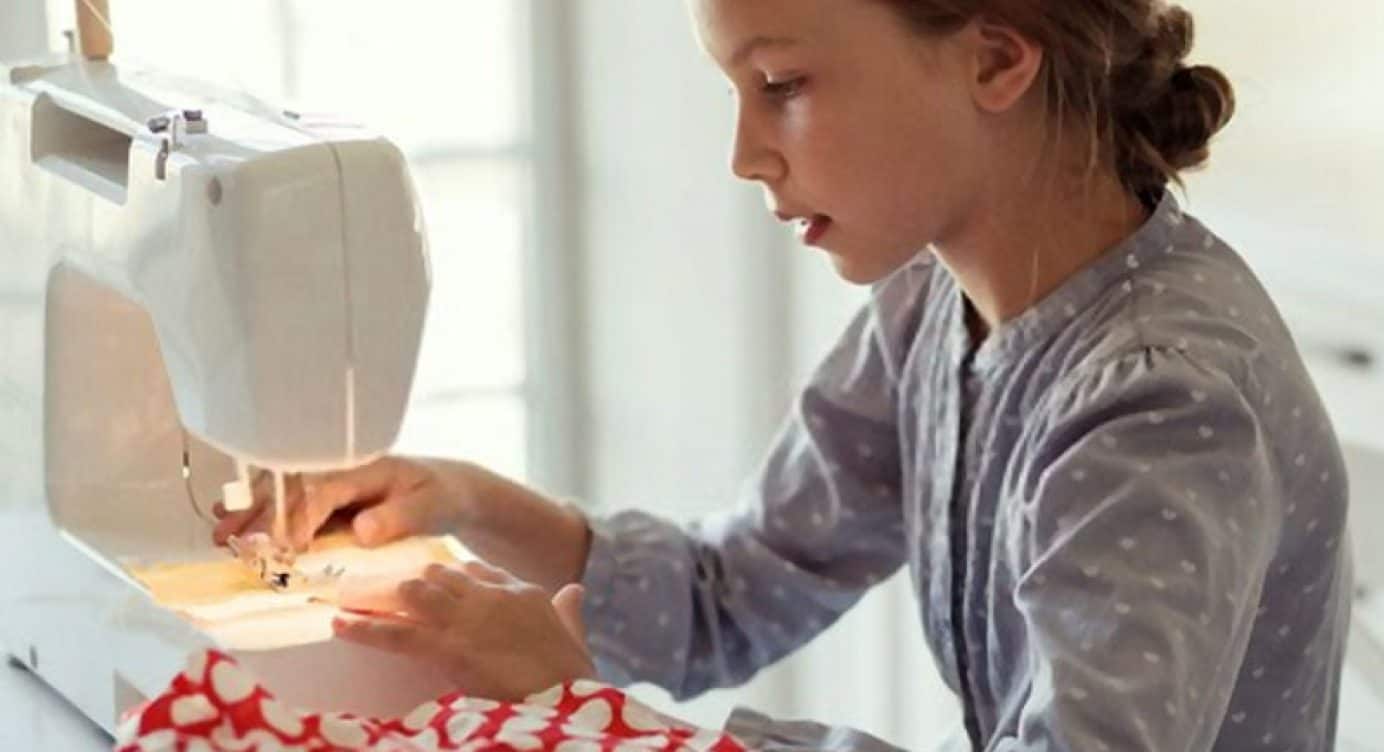 Kids' Sewing Machine Buying Guide
Before going into the full details of the review, consider the following factors before buying a sewing machine for your child.
Your Budget
Sometimes, it's easier to get carried away by the pictures of adorable but pricey sewing machines than by the warnings from your pocket. On the other hand, it's a poor investment buying a cheap sewing machine which would end up becoming a nuisance to you and your child. That said, an estimated budget of £75 can fetch you a superb sewing machine for your kid.
Build Quality 
Certainly, no parent wants a machine which toys with their child's emotion. But that's bound to happen if you get a flimsy sewing machine which breaks apart with little effort because of its cheap plastic body components. To escape that embarrassment, test the weight of the machine you want to buy by lifting it up. If it weighs like a 2-slice toaster, the quality is high-grade. But if it has the weight of three medium-sized bananas, the machine is made of inferior parts. 
Safety Feature
The safety of your child while using a sewing machine is paramount. As such, you should look for a sewing machine that's not only sturdy but also features a finger guard to protect your kid's vulnerable fingers from the sharply pointed tip of sewing needles. However, if the quality sewing machine of your choice has no finger guard, you can buy it separately as an accessory. 
Simplicity Of Use And User-Friendliness
A fiddly sewing machine can quickly frustrate your child. Even as an adult, you'll derive great pleasure sewing with a machine that's straightforward to use and easy to operate. To determine a machine's simplicity and user-friendliness,
Read reviews from reliable websites.

Ask the seller or an expert sewer who is conversant with kids' sewing machines.

Request for a sample of the machine's manual to see if the instructions are simple to understand and follow.
 Quality Of Sewing And Stitching
The last but not the least factor to consider when shopping for your child's sewing machine is the ease with which it runs on fabric and the quality of stitching it delivers. By all means, find out if the sewing machine you want to purchase sews smoothly without jamming unnecessarily. Though the strength of the stitching from a kids' sewing machine can't be compared with that from a standard sewing machine for adults, be sure that you aren't buying a machine whose stitching comes out loose on fabric, or that doesn't stitch at all.
 Top 5 Best Sewing Machines For Kids
 Cool Maker Sew n' Style Machine 
Suitable for children aged 4-12 years.
Best for: Felt-style sewing, pompom making, furnishing projects and creating fashion accessories.
The Cool Maker Sew n' Style Machine is battery-operated, a handy tool your child can use in creating fantastic sewing projects anywhere, anytime. Its bright blue colour makes it a good choice for either a boy or a girl. With this machine, your child can construct a pompom for hat, rug, and napkin ring decoration; felt pillow covers, hair bows, stuffed animals, and curtains. It's a straightforward machine to set up within minutes. 
What's more, it's quite user-friendly with an easy-to-follow instruction manual. It features four to five needles protected by an inverted cone-shaped finger guard. Furthermore, this sewing machine is powerfully built to sew up to four layers of fabric together, and once your child exhausts the yarn accompanying the machine, it can easily be replaced with any other form of yarn you can lay your hands on. You'll be glad to know that the quality of felting from the Cool Maker Sew n' Style on fabric is neat and strong; you won't believe it's from a so-called toy machine. The machine's in-built bright lighting ensures that your child doesn't strain his/her eyes while working on a project in a poorly lit work area. 
Note:
There's no provision for the manual threading of needles on this machine because the needles are covered by a non-removable finger guard. In the interest of your child's safety while at work, that is a remarkable design.

For best stitching results, your kid should slowly feed the fabric through the machine for the slower the fabric is fed, the stronger the stitching produced.

The machine is noisy during operation. So, it's unfit for use in the dead of the night or where people are trying to have an important conversation. 
Toyrific Great British Sewing Bee Sewing Station for Kids
Suitable For Children aged 4 to 12 years.
Great for learning the simple basics of sewing.
If you expected the Toyrific GBSB Sewing Station to be all childish, you're in for a rude shock. This mini-sewing machine displays features like a reverse stitch button, 2-speed setting, and manual needle threading to challenge your kid's creative mind. There's a removable finger guard covering the sewing needle, which can be taken out when the need for threading arises. Also, it's a functional machine that's battery-operated or mains powered working alongside a foot pedal to regulate sewing speed. Featuring upper and lower threads, the stitching quality delivered by this sewing machine leaves nothing to be desired. Your child will appreciate the brilliant lighting of the Toyrific GBSB Sewing Station more when working on a dim fabric. 
Note:
Threading and rethreading must be done under your supervision, if your child is inexperienced or too young to do it.

This sewing machine is prone to tension issues, causing the machine to jam. To avoid or fix that:

Always thread the machine and needle from the right to the left direction (outside to inside).
Tighten the machine's tension adjustment screw to increase thread tension. 
Lena 42521 Children's Battery Operated Machine
Suitable for girls aged 4 to 12 years.
Good for learning sewing basics.
Even from its cute name and pink flowery pattern, the Lena 42521 Children's Battery Operated Machine is attractive to little girls. 
This practical machine is battery-operated and so, can be used in places where there's no electric power connection. It features a foot pedal for controlling stitching speed, and a handwheel to regulate the movement of the needle. 
More so, understanding how the Lena 42521 works is simpler with its detailed  illustrated instruction. Setting it up is no trouble; correctly insert two pairs of AA batteries and then flip the on-button. And if your girl desires to relocate the machine from one part of the house to another, she can conveniently do so via the reliable carry handle.
Note:
Threading and rethreading this machine is rather difficult for a child to execute effortlessly. This is where an adult steps in to help.  
Theo Klein 7901 Fashion Passion Kids Sewing Machine
Suitable for children aged 4 to 12 years
Best for occasional sewing purposes
Do you have a child who fancies a machine for occasional DIY sewing projects? You can buy the Theo Klein 7901 Fashion Passion Kids Sewing Machine for him/her. This is a machine which has no business with electric power since it's battery operated. Built to be safe, the Theo Klein 7901 comes with a transparent finger guard which adequately surrounds the potentially harmful sewing needle. There's no doubt your kid will get nice straight stitching from this machine, thanks to its 2-speed setting. 
HAITRAL Sewing Machine 
Suitable for older children and adults.
Good for learning sewing and for constructing garments/furnishing items.
Proudly displaying a built-in measuring tape, bright lighting, tension adjuster and thread cutter, the Haitral Sewing Machine makes the list of simple but capable sewing machines an adult can share with a kid. This machine features 12 basic stitches for assorted sewing purposes, including hemming and buttonholing; you'll have to fix the appropriate presser foot for the specific sewing desired. It requires no special needle: the standard-type needle for sewing machines is enough for the job. 
Besides, you can sew your fabrics anywhere with the Haitral since it can either be powered with batteries or mains-powered. Featuring a dependable foot pedal and 2-speed setting, it's amazing how the machine responds exactly as fast or as slow as you want while sewing with it. You'll love the smoothness of this compact sewing machine as it runs on your fabrics, producing no noise, whilst taking up a small tablespace.
Final Words 
Every child deserves an opportunity to learn a skill, especially if it would help him/her tremendously in time to come. Buying a kids' sewing machine for your growing child is a way of encouraging creativity and mastery of sewing from a tender age. As they attain maturity, kids tend to seek for higher challenges; at this point, introducing them to a "real" sewing machine with more stitches and advanced functionality will make better sense. Frankly, sewing is a fun experience and it's an avenue for bonding with your child as you serve as his/her able assistant cum instructor. Since the opportunity has presented itself, why wait until whenever to buy the kids' sewing machine you can buy now?